320is built May Ď89
.
A brief 320is run down if youĎre not familiar with this particular model: http://www.e30zone.net/e30zonewiki/index.php/320iS
This an Italian car brought into the country by itís Italian owner, this is not a 320is bought over by an importer. Itís been in the UK approximately 6 years. The car had 100,000km before it had the MPH clocks fitted which now have 31,700 miles on them. Therefore a total of approximately 94,200 miles.
The car came to me with partial service history but a bundle of receipts which I have added to considerably. A three inch thick ring binder documents work done/parts bought.
I flew to Edinburgh in 2009 to buy this car after viewing various E30 M3ís, I never envisaged selling this car as it is my dream E30 after owning them for the past eleven years but maybe itís time to move on. The sensible boring reason is the funds would be better used in bricks and mortar.
Body
Standard two door 320is with MTechII kit.
Resprayed a few years ago by a previous owner who was a professional detailer ( I have his contact details). The paint is still in lovely condition and subject to my detailing addiction.
At the same time as the respray most of, if not all the external trim and clips were replaced.
I recently removed the kit to inspect for rust. The only rust I found was from screws in the rear arch lips holding the bodykit on, the screws had corroded and it had stained the body. So the area was ground back to clean metal, rust proofed, zinc sprayed, etch primed, painted and waxoiled. The screws were replaced by the correct plastic rivets. The rest of the body covered by the bodykit had a coat of waxoil and at the same time all cavities were treated with cavity wax. The underside of the car including the wheel arches was thoroughly cleaned and degreased before also having a coat of waxoil.
The body regularly goes through a thorough detail using a clay bar, Menzerna polishing compounds, Chemical Guys glazes/polishes/waxes/sealants. If I was to write down the detailing process I use it would fill an A4 sheet. Unexpectedly won a show & shine event.
Smoked headlights and indicators. (I still have the original lights)
E30 M3 Sport Evoí bonnet to wing seals.
Chassis
H&R coilovers, these were already fitted when I bought the car but I removed them to clean and inspect them. One front shock had a perished seal so both front shocks had were sent off to be refurbished. The rear adjustable spring perches were corroded so were replaced. All threads were thoroughly cleaned and covered in copper grease on installation. (Regreased on a regular basis).
Racing Dynamics adjustable anti-roll bars.
Racing Dynamics strut braces.
BMW negative camber front top mounts.
Ireland engineering rear shock top mounts.
E30 M3 eccentric control arm bushes.
Polyurethane rear trailing arm bushes.
BMW rear subframe bushes with void fillers.

Wheels/Tyres/Brakes
Compomotive TH1680 alloy wheels, 16x8 ET25 bought new for this car.
Toyo T1-R tyres.
Standard discs and pads.
6 piece Goodridge braided brake lines.
ATE super blue brake fluid.

Transmission
Standard dogleg gearbox with fluid change.
New genuine BMW clutch master and slave cylinders.
New genuine BMW propshaft centre bearing and coupling.
Standard S3.46 LSD with Z3M finned rear cover and correct Castrol SAF XJ fluid.
New genuine BMW gearbox mounts.
Rear wheel bearings changed.

Engine - S14B20
Full rebuild completed November 2011 - detailed receipt available.
New rings, bearings, gaskets, seals etc.
All new timing gear including chain, guides, S54 tensioner, tensioner pads, sprockets.
IPG valve springs
http://www.ipg-supertech.com/cart.php?target=category&category_id=505
Piston valve pockets machined for more clearance from the exhaust valves as the clearances are very tight when using different camshafts. The 2.0 has flat top pistons where the M3 has dished pistons.
Crank journals polished.
Con rods inspected and weighed.
Shrick 276/276 Camshafts.
Carbon fibre inlet plenum deleting AFM.
Alpha-N piggy back ECU controlling air & fuel, timing is still looked after by the original ECU.
Sump baffle to stop oil surge under hard cornering.
New oil pump including drive chain and sprocket.
Injectors refurbished.
TTV lightened flywheel.
New clutch.
VAC underdrive pulleys.
Original and most desireable 50/50 exhaust manifold.
Supersprint mild steel exhaust system.
All parts thoroughly degreased before installation.
Engine block painted.
As of 24/12/2011 I have only covered 100 miles since the engine was reinstalled due to the weather and increased work commitments.
Interior
E30 M3 MPH clocks.
New genuine BMW MTechII steering wheel.
New genuine BMW heater matrix and tap.
E30 M3 black leather rear bench.
Leather gear and handbrake gaitors.
Map light rear view mirror.
Recaro Pole Position front seats - optional if theyíre not to your taste, although Iím yet to find a pair of original front seats in good condition.
Alpine CD headunit.
Orion front component speakers and rear speakers. The tweeters are housed in the original tweeter pods.
New mats.

The only points left that I havenít yet remedied are the offside wheels have two minor kurb marks and the front lower bumper has stone chips/marks that is part & parcel of a lowered car.
Iím in no rush to sell the car, itís tucked away in my garage under a cover on a trickle charger.
Price, now Iím sure this will lead to debate on owners club forums etc. I viewed various E30 M3ís before taking advice and looking at 320isí. I found that E30 M3ís for a similar price needed an engine refresh and welding/bodywork without any upgrades.
Therefore, Iím pricing this car at £12,750. A similarly specified M3 would be in the region of £18,000-20,000.
I have not yet sent the relevant paperwork to the DVLA requesting removal of my personal registration, it normally takes two-three weeks.
If you require any further information or photos please feel to ask. My email address is
[email protected]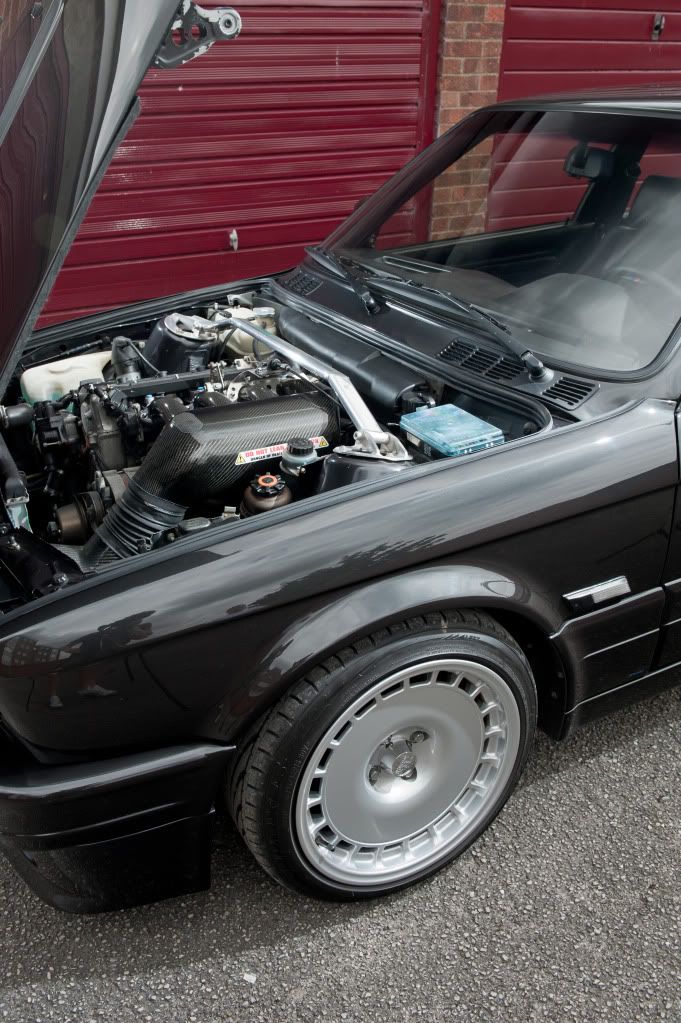 [