FS: 1990 BMW ///M3 - Alpine/Blk
Ok so something has come up (selling everything I own to travel the globe for as long as I can) and I have to sell my BABY!! ....the one 10 years from now will be the one that got away from me = (
This car has some good history so settle in:
I bought this car 4 years ago from the original owner's Nephew, who lived in the same house, and only had it for the last 2 years. So about as close to the original owner as you can get. I saw him driving it, stalked him and basically made him sell it to me, haha!!
The car was purchased at Saddle Back BMW (now Irvine BMW) in October 1990, as it is an 11/89 build. The Original Owner used the car to drive from Encinitas to Irvine everyday (60 miles each way), parking in a garage structure to keep the car always stored in the shade. This obviously racked up a ton of miles, but all freeway miles, and only with one person in the car.
**IMPORTANT Motor work**
A few months before I bought the car the OG and Nephew had the motor refreshed by Coast Motor Werk in Orange Co. They torn down the entire top end and tanked everything replacing a few worn things, but keeping most internals with the original equip. Obviously the engine was completely resealed and a ton of electrical components and hoses were replaced. All in all over $5,000 was spent refreshing the motor! I have all the receipts as well as the records at Coast MW to validate. The result is amazing!!! The car drives better than any I've driven or ridden in with half the miles! The motor is so crisp and responsive and its still completely stock, not even a chip.

The car has 256,xxx miles on it and all of the engine work was done at 220,000 miles. I cannot stress how crisp and snappy the engine and whole car is!! You have to drive this thing to understand!
**IMPORTANT**
Because I bought the car from the original owners I have almost EVERY receipt through the cars life!! I have all the original maintenance records and receipts in the car maintenance log and individual receipts! I have a receipt dated Dec 1990 when the car had only 128 miles on it! I have a whole book full of maintenance over the years from radiators, to wheel alignments, preventative maintenance all done by the Dealer or a BMW Specialist.
I've kept with an OEM+ theme, to keep it clean, simple, beautiful and functional.
Maintenance:
I have tons of receipts and documentation of services from the dealer or a BMW Specialist! I can't even begin to list them all.... but recent stuff this year includes rear brakes and rotors were just done this month
The car is meticulously maintained by myself and with the help of my good friend username: ///Criss
Just changed the oil - Always use Mobil 1 Synthetic oil
Mods:
Front bumper side markers filled euro style
Euro tow hook covers (painted to match)
Fog delete - black brake ducts
Smoked signals - Abraham's motorsport
U.S. Spec Ellips w/6k 55w HID kit (Looks OEM, no rice crap)
Evo 3 Front Bumper seal
Rear license plate filler
Illuminated ///M leather shift boot/knob (connected through the rear ash tray light wiring)
BBS LM 17x8 & 17x9 et 5 (Legit! No replicas junk here)
**The car is on stock suspension with new Bilstein HD shocks.... so YES, it's high.... NO it's not a 4x4 (as I'm sure people will joke). Coilovers were going to be the next mod I did.
Wheels:
17x8 & 17x9 BBS LMs with staggered lips.
These are 5x114.3 on adapters made by Fred Goeskein in the OC. The adapters are 72.56mm to fit the BMW hub and have a 82mm outer lip to fit the wheels perfect with no hubcentric rings needed. The final offset of the wheels are both et 5, so just about the exact same outer placement of the very popular 17x8.5/9.5 BBS RS 197/212.
The wheels have a little tiny bit of rash on them, but I've already started sanding them and they could easily be sanded all the way out. Also the clear is starting to crack, so if you want them to be 100% you could get the clear removed and have them highly polished!! They would look insane then!
Fred is one of the best in the business and has been making adapters for over 30 years for drag cars and anything else you can think of. The adapter bolts to the hub and has studs pressed in from the rear. The wheel bolts on with the studs. The adapter is hubcentric to the car and hub & Lug centric to the wheels. I have never has one single issue with them in the last 3 years.
www.wheeladapter.com
Stereo:
Full Alpine stereo system with crossovers and amp in the trunk. Professionally installed and done right by the previous owner....it was very expensive, is what Best Buy told me. The new tweets and woofers are under the factory screens and you can only tell by the shiny Alpine logo behind the screen. I have a sub too, but I took it out cause I rather hear the engine the bass. The system sounds very nice and clean!!
Exhaust:
At some point over the last 20 years the exhaust went and the Orig Ownr too the car to a muffler shop and had them build a single tube cat back exhaust with a Magnaflow muffler without a fancy tip. The exhaust sounds loud and raspy, but not annoying or droning. I like it... and it's def not ricey. I was going to have a nice duel tip welded on, but just never got around to it.
The BAD:
...I will try to explain and over analyze as much as possible to be as fair and honest as possible.
- Wiper lever needs to be held to work. The contacts need to be cleaned, but I don't know how to do it. They work you just have to pull the lever towards you to make a better contact. But I almost never drive in the rain so I don't notice.
- The tach- every once and a while I'll start the car and the tach is bouncing around all crazy. It usually goes away after starting it a few times, and if not, I disconnect the battery and then it's fixed.
- The ABS light - After about 5-10min of highway speed driving the ABS light comes on. If I drive around town not on a highway it will never come on (tested this driving for hours) but the second I'm doing 80mph for a couple minutes it comes on. THE BRAKES WORK PERFECT, it's just the damn light. Someone told me one of the sensors is off causing it to read wrong and illuminate. Dunno.
- Steering wheel wobbles a tiny bit on the highway, but have never had an issue with it doing anything else. It's so minimal that I hear it more than feel it.
- Stereo head unit- the stereo just started cutting out. I took it to Best Buy and they tested everything and pulled the head unit and concluded that it was the problem (you can see in one of the pics that it's removed cause it was at Best Buy). I don't ever listen to it anymore so I decided not to buy a new one. But sometimes it doesn't cut out at all.... so that's up to you. Also, the CD player has never worked since I purchased the car. I use a radio frequency tuner to play my ipod with.
- There is a little bit of stitching separation in the rear seats.... only like an inch on each side on the top. I think it was caused by the sun tightening the leather over time. It can easily be repaired. Come to think of it, i have no idea why I've never had it repaired, haha.
- The paint is beautiful!! But, it is 20 years old, so if you get down to it, it has some tiny rock chips in the front, tiny door dings and some spots where it's wearing more than others. The wing has some cracks. None of these things can bee seen from 2 ft. away. And the wing looks perfect from that distance, you can only see the cracks up close. Overall it is really beautiful, especially when it's washed and waxed, but again, I just wanted to over anywise so there's no surprises. Wait till you see it in person!!! The pics don't do it justice, she's so beautiful! = )
Overall I give the car an 8 out of 10. You really have to see it in person and drive it to see how great this car is!! So snappy and responsive, and so tight in every way!! I'd put this car up against any other with half the miles, in every way, and bet if you didn't look at the odometer, it would come out on top! Overall the car is gorgeous and drives phenomenally!
It's been a dream owning this car and I've loved every second of it! And I'm sure you will feel the same way!! The car gets a lot of attention and I can't park it anywhere without coming out to notes of people wanting me to sell it to them. You HAVE to see and feel it to see how beautiful she is!
[SIZE=3]
I'm asking $18,500/obo and that's with the BBS LM's that are worth $2,500 alone. Car also comes with the stock wheels with good tires that have decent/lower tread.

I am willing to sell the car without the wheels, but my starting point will be $16,900..... the wheels are kind of a sweet deal because I would rather sell them together and not deal with it.

This is obo because I do have to sell the car, so if you are interested, contact me and we can discuss.

Hit me up on here, email me at:
[B]
[email protected]
When I first bought her 4 years and 30k miles ago: (Most of these are cell pics, so I apologize for the low res)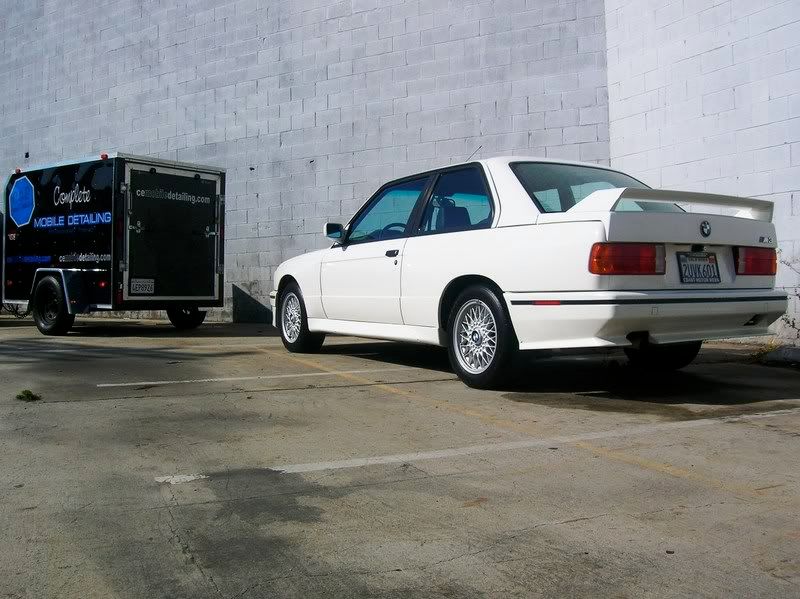 How she looks now: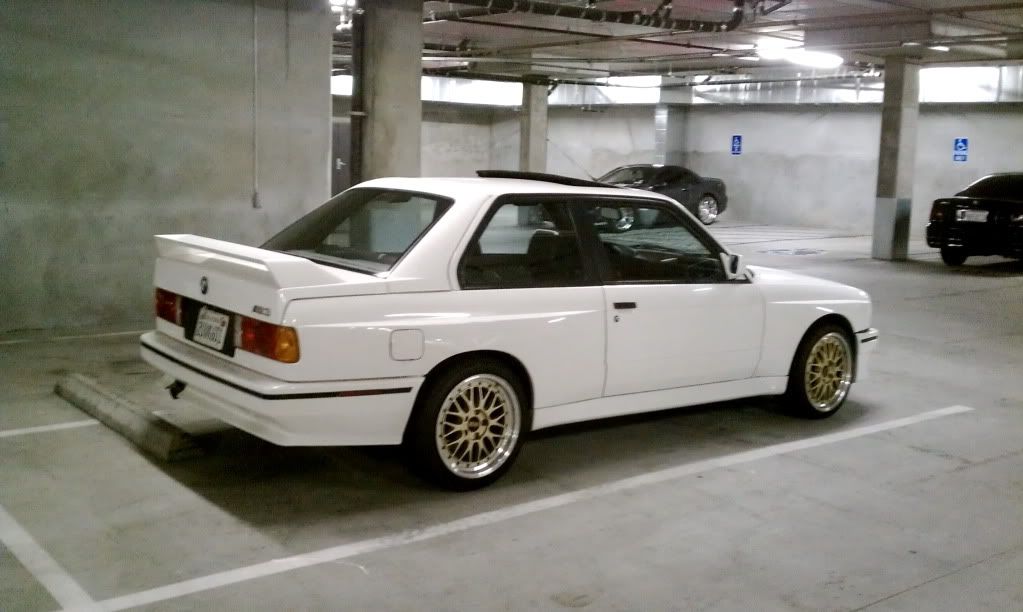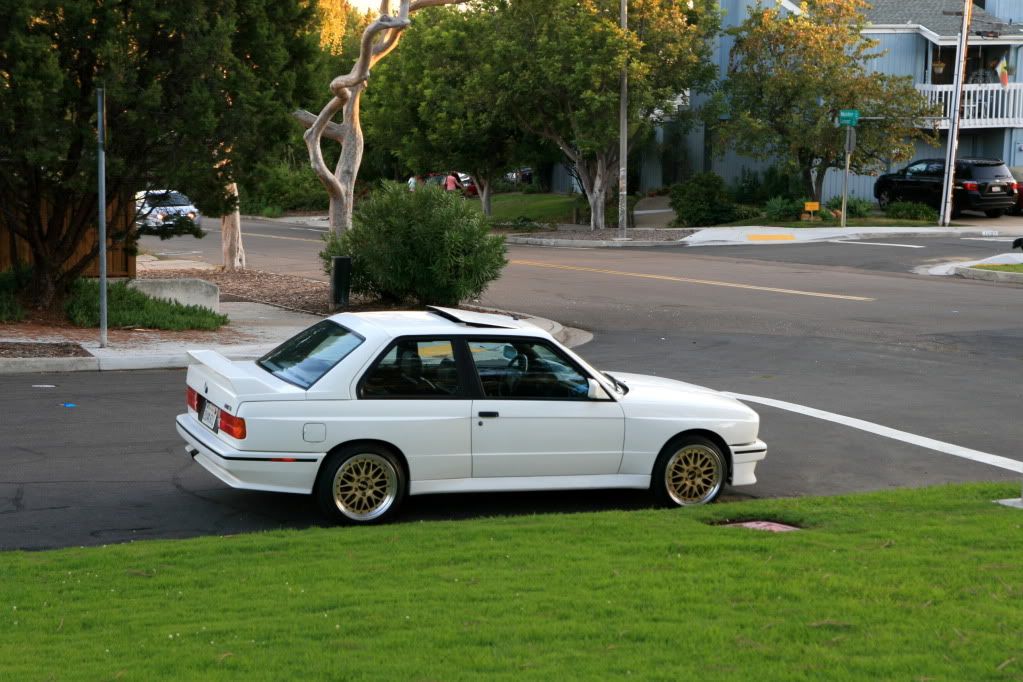 These were just taken by my detailer a few weeks ago. The same guy from the first pics when I first got the car... kinda fitting, haha: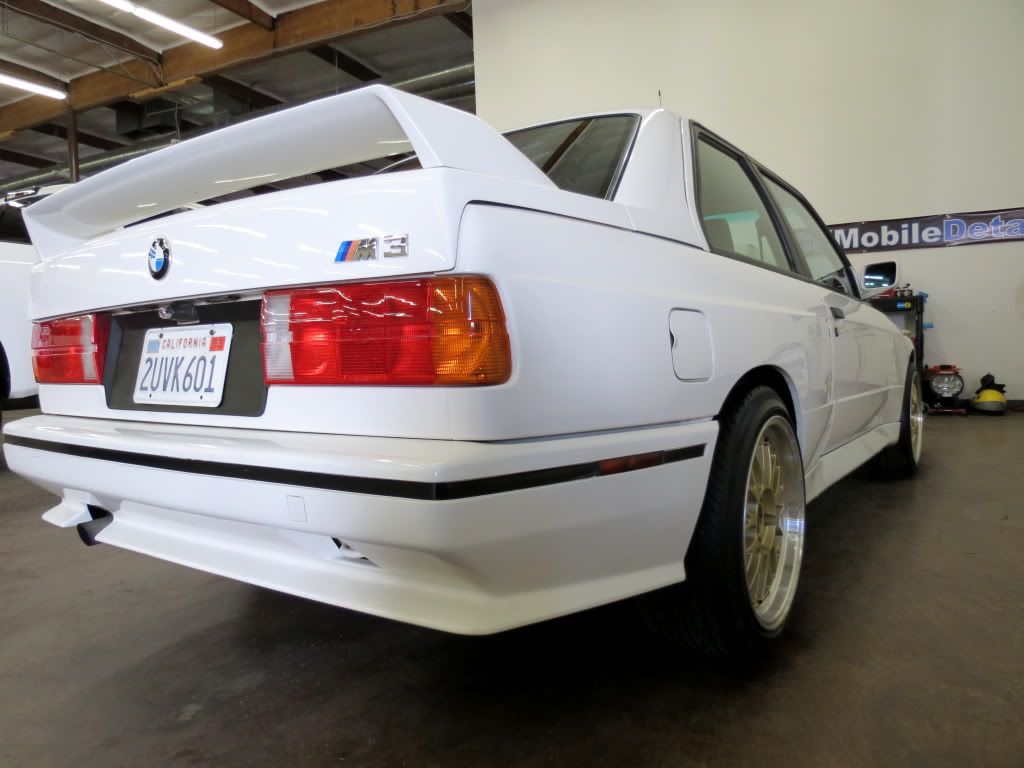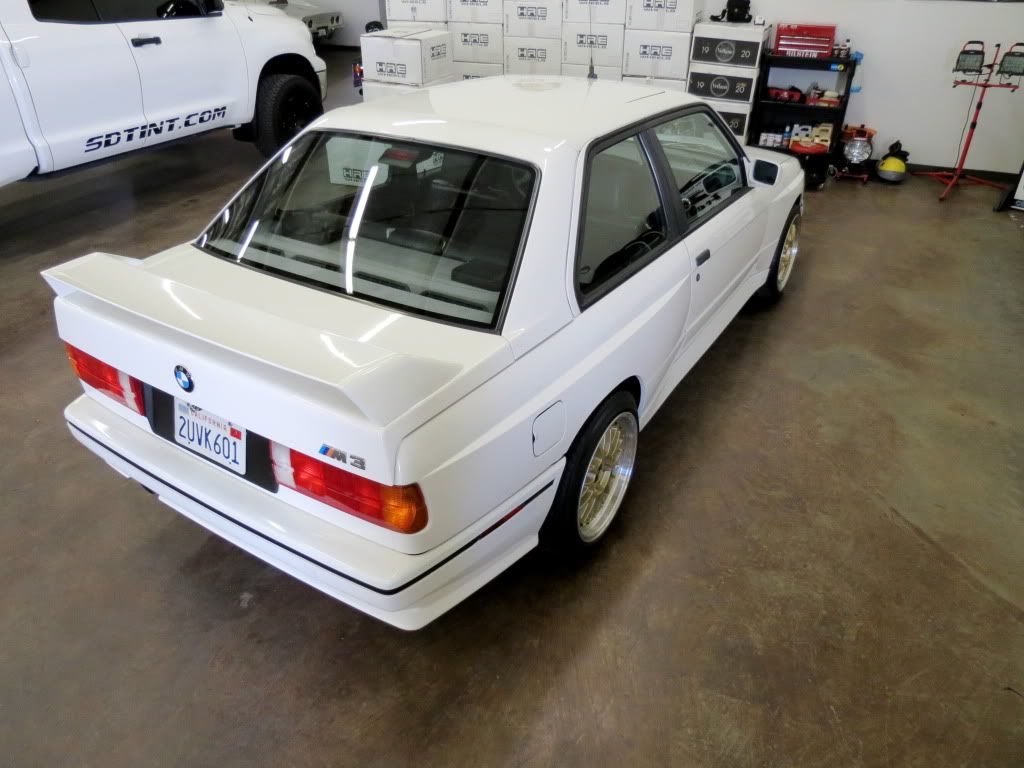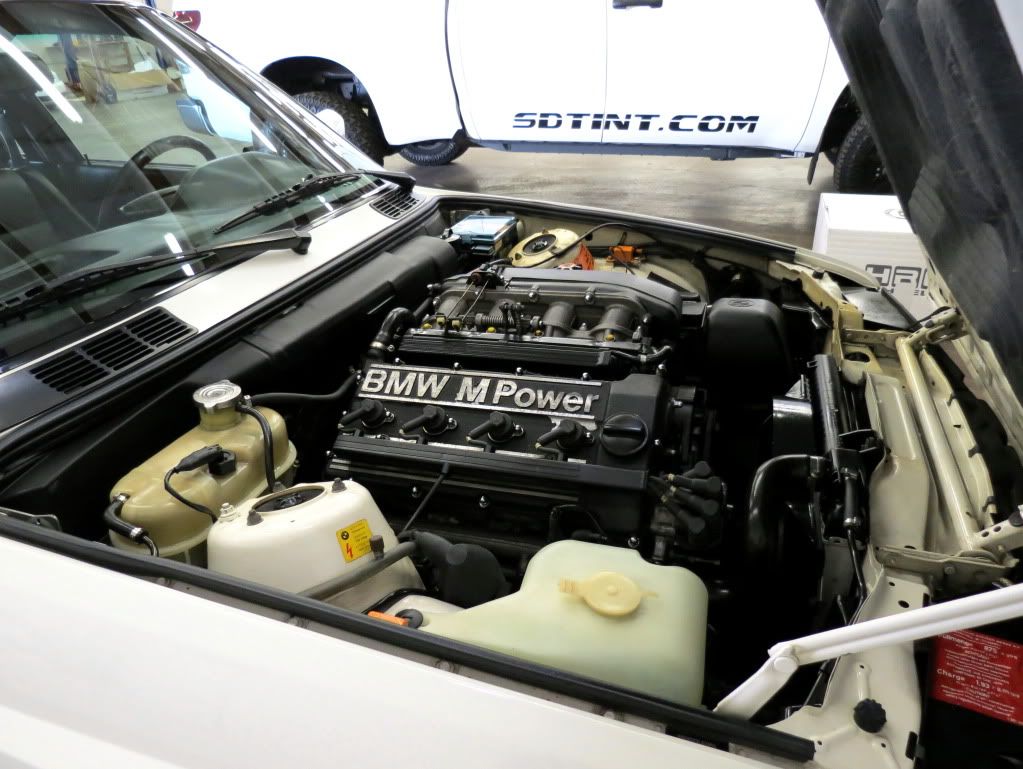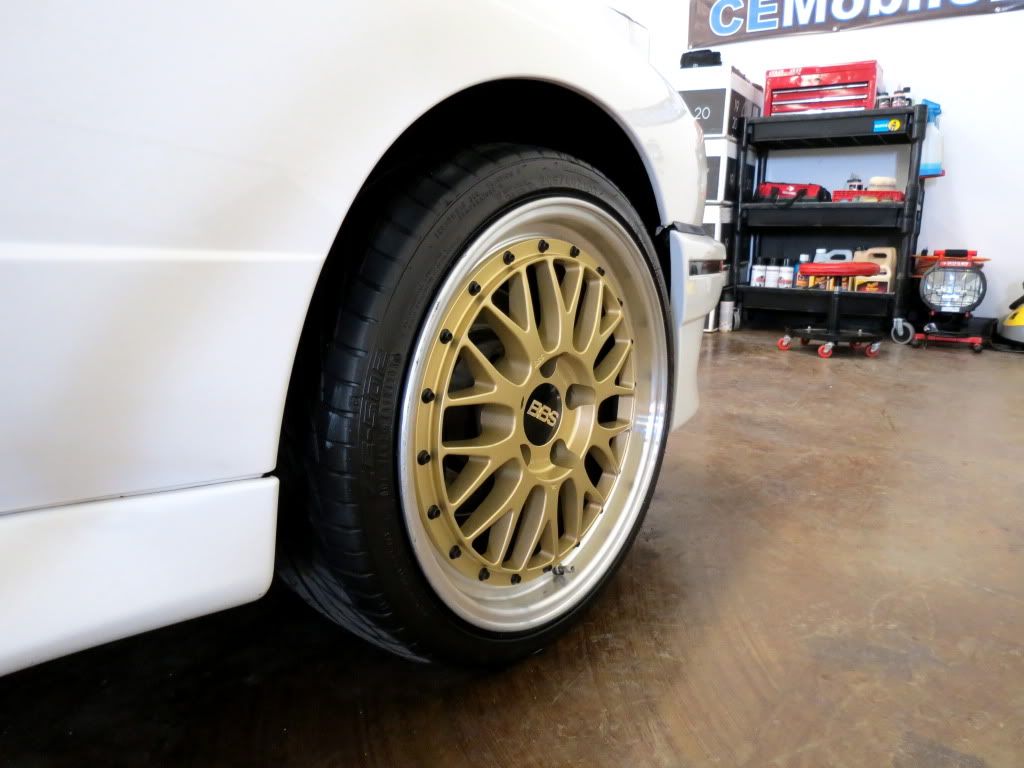 Stereo in the trunk:
You can barely see the crossovers under the rear decklid, and they don't get in the way at all.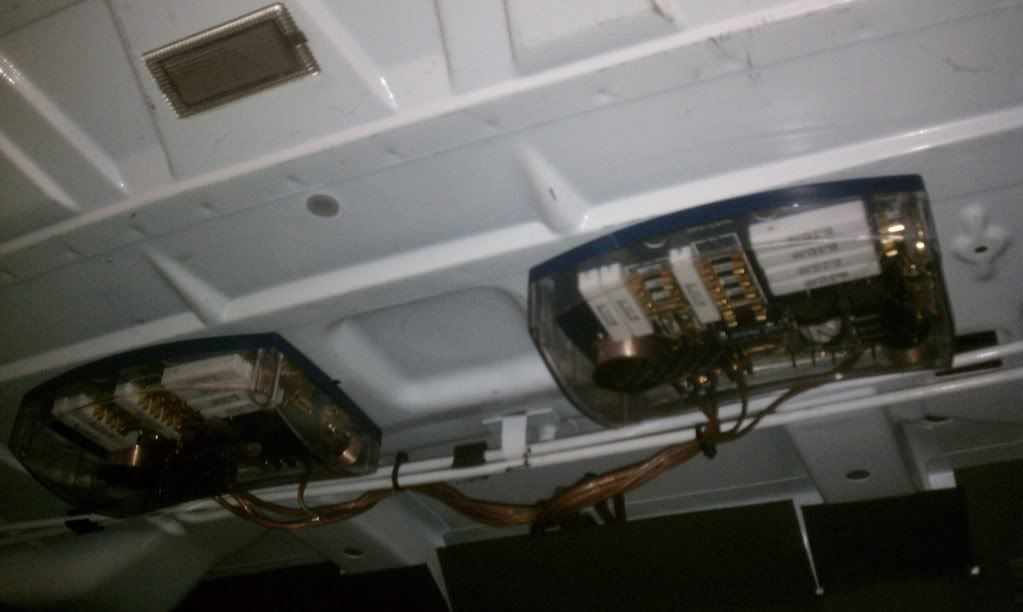 Paperwork: These pics don't do the amount of history I have documented justice! I have so many receipts just from the 90's to show how well this car was taken care of and document it's life as an ///M.
This is the oldest receipt I have of the car from 1990 with only 128 miles on the odometer! The car had a wobble, so the dealer balanced the tires, and it was good to go!

This car is truly a beautiful car and if I weren't selling everything (including my 3 other cars) to travel around the world for as long as I can, there's no way in hell I'd be letting her go!!! So my lose is truly someones gain.