Well, what can i say?! Have always wanted an E30 M3 but for one reason or another i've not bought one until now.
Kind of missed the boat when sensible priced ones were the norm so fast forward to now and the opportunity of one came up as the long term owner (more on that later) had laid the car up for some time and had finally decided to part with it.
Built in Feb 1987 and oddly first registered as an original UK car in Jan 1988 supplied by MLG Chiswick in London as a completely basic spec car.
S300A Emergency spare wheel
L812A NATIONAL VERSION GREAT BRITAIN
S850A Additional Export tank filling
S853A Language version English
S860A Additional turn indicator lamp
So that means non sunroof and manual windows, coupled with the non metalic Alpine white paint makes it all most "motorsport light weight" drivers spec!
Possible goes some way to explain why it remained unsold for nearly a year?
The car has remained a London car all its life as the original owner from Harlesden in North London sold it when it was 5 months old to the guy i bought it from who came from Fulham, SW London so its virtually a one owner car, all most unheard of with E30 M3's and pretty incredible that he owed it for 27 years!
Mileage is 174k which is high'ish for one of these but for what i have planned for the car it does not matter... more on that later.
So - some pics!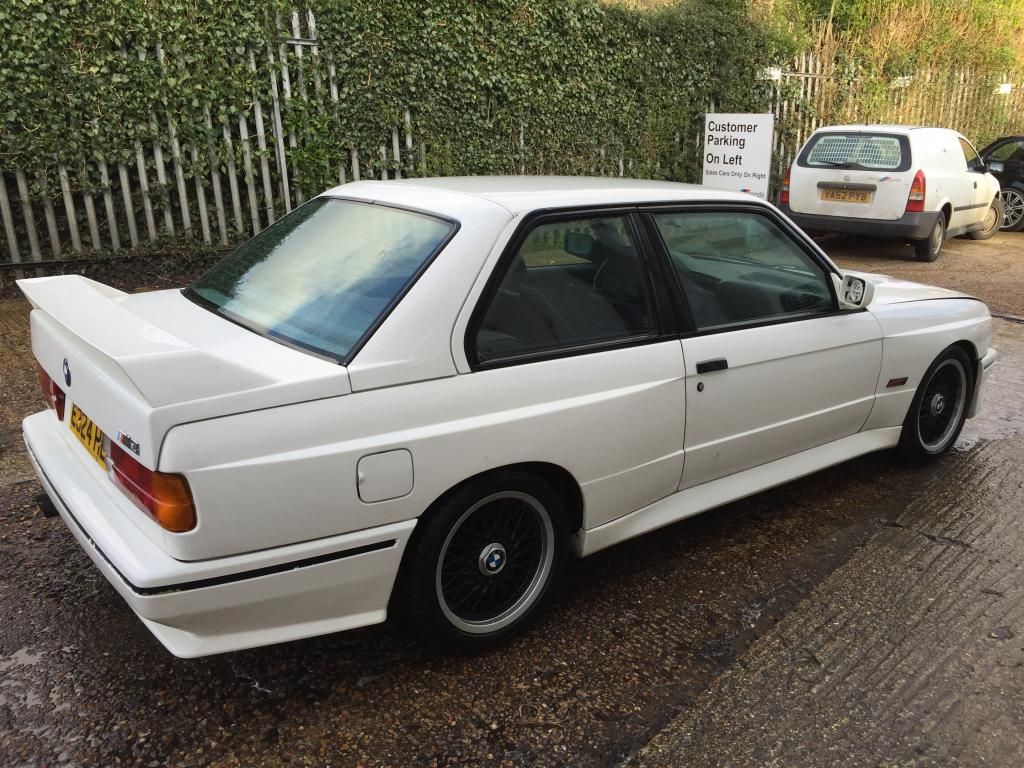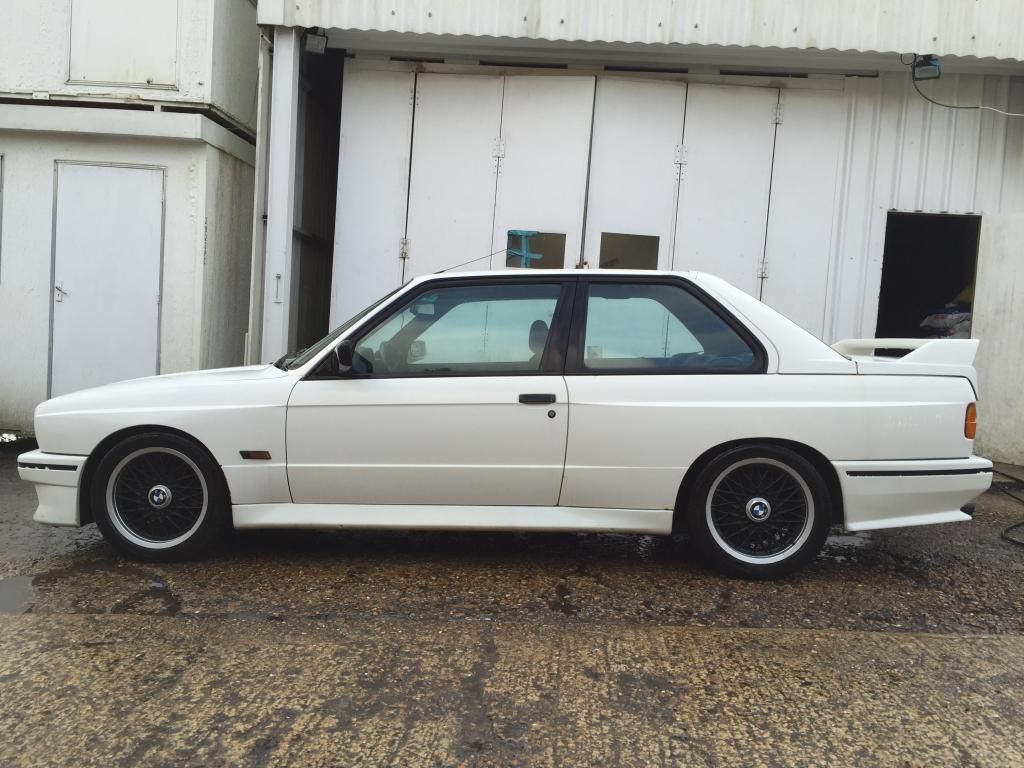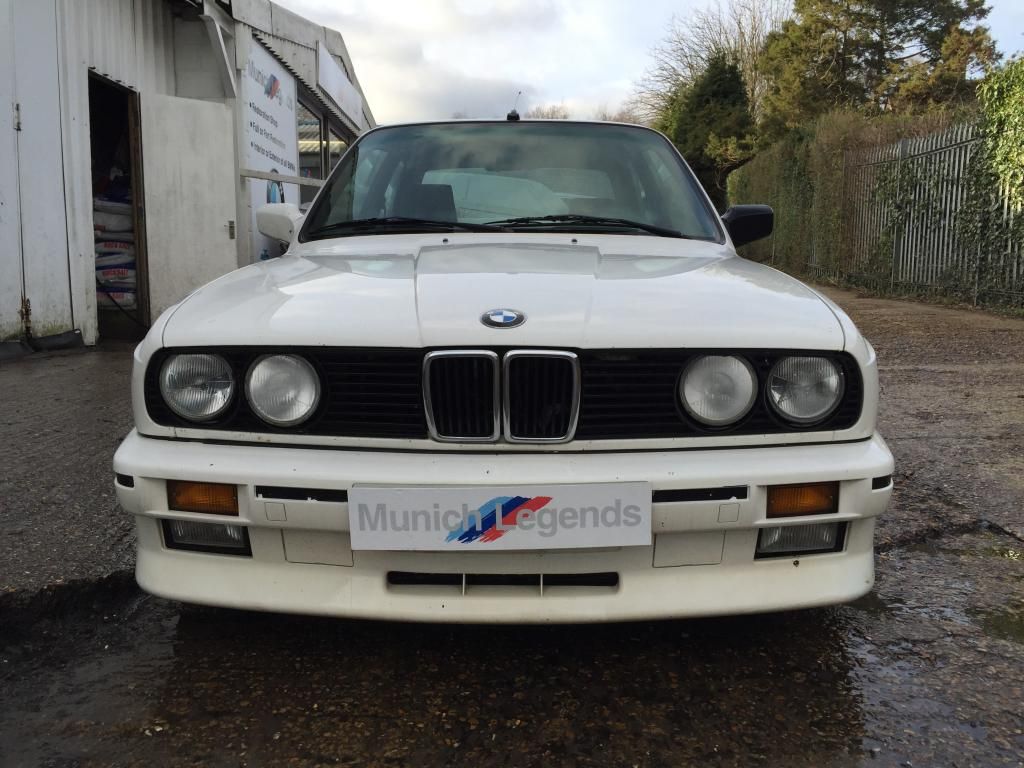 It is pretty rough around the edges to be honest but most importantly of all is its not a troweled up shiny snotter like quite a few E30 M3's are now and its honest with what looks to be all original paint.
Being a non sunroof car means one less potential rust area to worry about and after a look over the car on the ramp and dropping the knee roll and glove box, the bulk head look to be ok.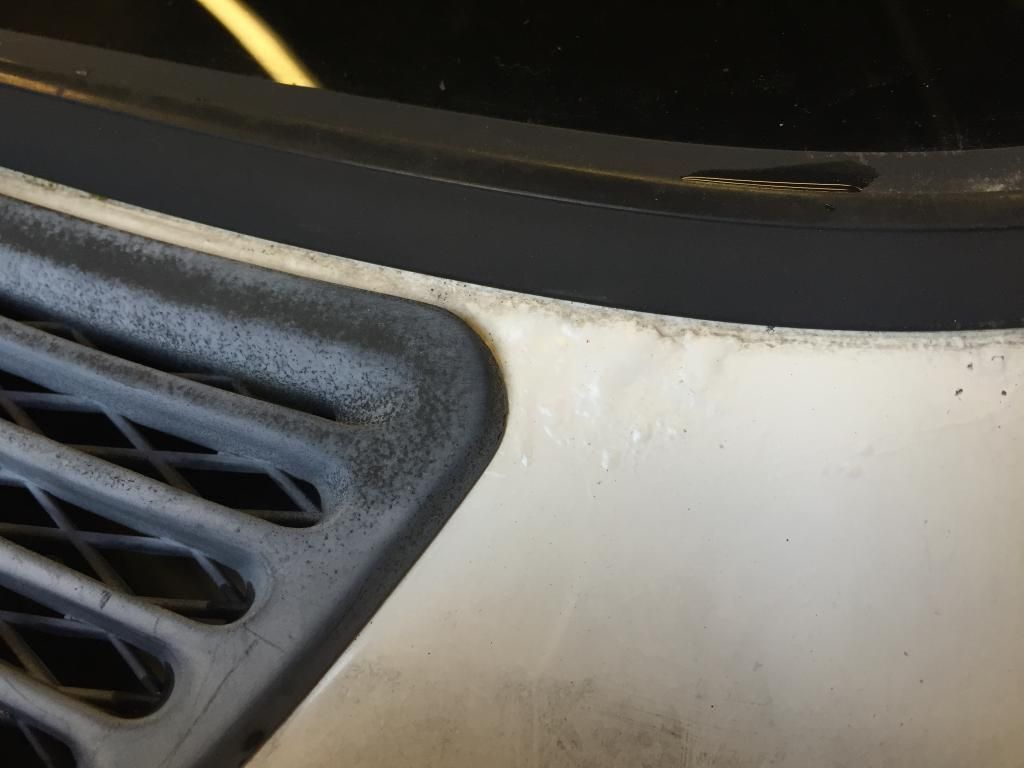 The scuttle is solid but has these bubble which will grow a bit when ground back.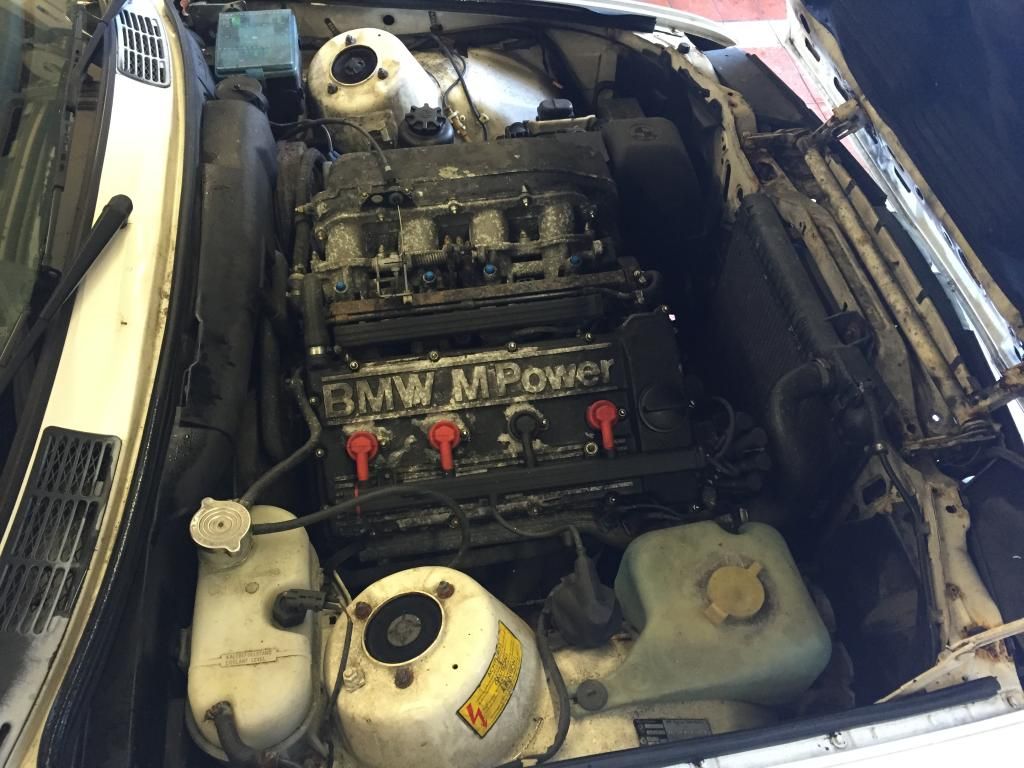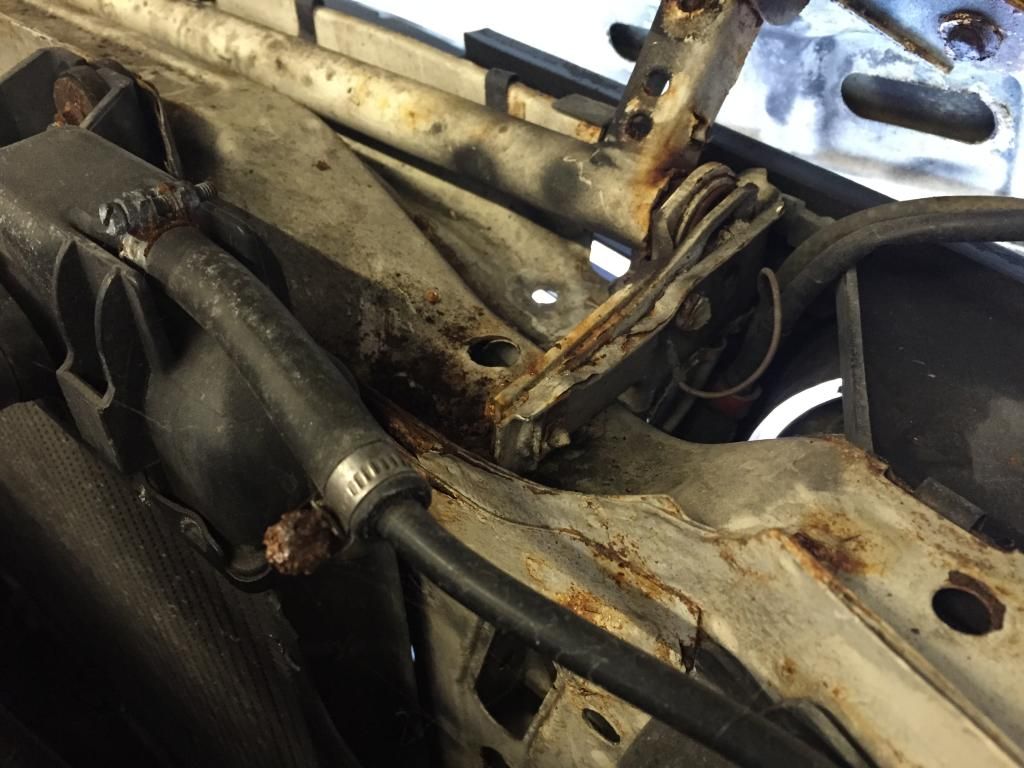 As you can see the engine bay is very scabby and unsightly but it would not take much effort to improve this for the time being.
No big fist holes in the inner rear arches which is nice and surprisingly both the boot and interior remain damp free, no condensating up, no mould or anything and it has been outside for sometime!
The worst bits! Clearly the square lifting pads have succumbed to tin worm at some point and some craftsman has patched them up no doubt for a MOT. Nasty!
Hence my wanted ad for donor front floor sections.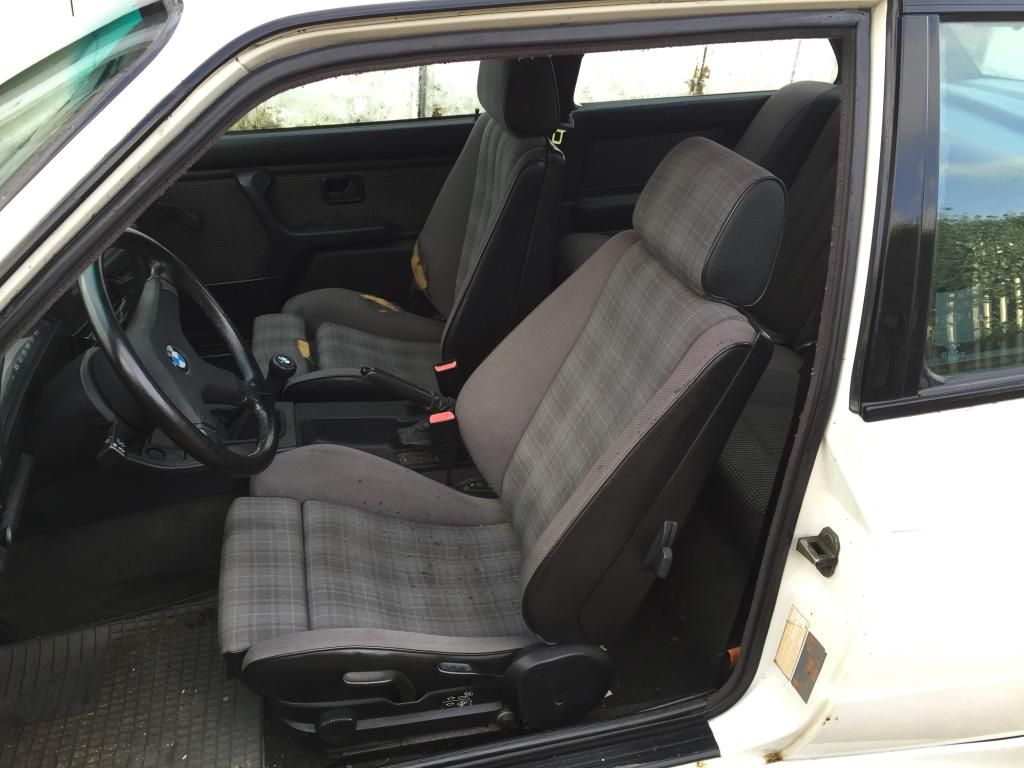 Oddly, the front seats have been replaced. The original trim is Country "houndstooth" but the fronts are now a pair of Uberkaro RHD seats from a cabrio.
Maybe there were some bucket type seats at some point and the current pair were chucked in to replace them at some point?
Other non original items include the 16" BBS black centred wheels from a Ceccotto edition M3 and some Bilstein B8 shocks and eibach springs. Bonus!
There also looks to be a recent replacement genuine rear silencer and front calipers.
So where does that leave me?
Obviously the car needs a bare shell resto and the long term plan is to do just that but i do not want to steam staight into that without actually enjoying the car and forming a bond with it, something that needs to happen for spending thousands of pound and hours turning it into something that will last.
So, the plan is to make it safe, reliable and get it through an MOT so i can use it as a daily, yes that's right a daily as well as get a bit of track time.
I need to pull my finger out as well because i am off to the Ring with this in 8 weeks! 8O
Soooo, after a mooch round it again today the list of things to do to get it usable are,
New pads and discs
All new handbrake hardware
Braided brake hose kit
Drop links all round
Rear axle bushes
A pair of wish bones
Rear top mounts
A pair of track rods
Replace all fuel hoses
Replace both belts
Inspection 2 including all fluids
Refurb injectors
New battery
Weld front floors
New oil cooler pipes as they are crusty and the last thing i want is it dumping all its oil on Track at the ring as thats not cheap!
Hopefully most of this will be done in the next week or two.
So there it is, a scabby but solid, virtually one owner UK M3 and all for the price of a "nice" 325i Sport!