So after the sale of my old white E30 M3,
http://s14net.vbulletin.net/forum/s1...-white-1987-m3
Another E30 M3 needing some love came along.... so i bought it!
Unfortunately i don't have many pictures of it when first bought but here is one not long after bought and mid way through some work.
A bit more about this particular M3. Like the white one, this is also one of the first 5000 built to homologate the M3 for group A motorsport with this one being an even earlier built car.
Another AK01 (non cat 200bhp car) Built on 14/11/86 in Lachs silver 203 with anthracite "houndstooth" cloth 0211 with the following options.
300 Central locking electric
400 Sliding Sunroof Manual
410 Window Lifts, Electric At Front
428 Warning Triangle Warndreieck
551 On-board Computer 2 With Remote Control
663 Bmw Bavaria C Electronic
681 Roof antenna
800 Air conditioning
979 Velour floot mats
So a bit more optioned up than the white car!
This car however was not an original UK supplied car but more on that later!
The car came into work with a view to being sold by the usual sale or return arrangement at Munich Legends but after being inspected it would have needed at lot of work to get it up to our high standards some of which would have required a high initial investment before it could even be advertised and as the owner wanted a quick sale i made an offer and it got accepted.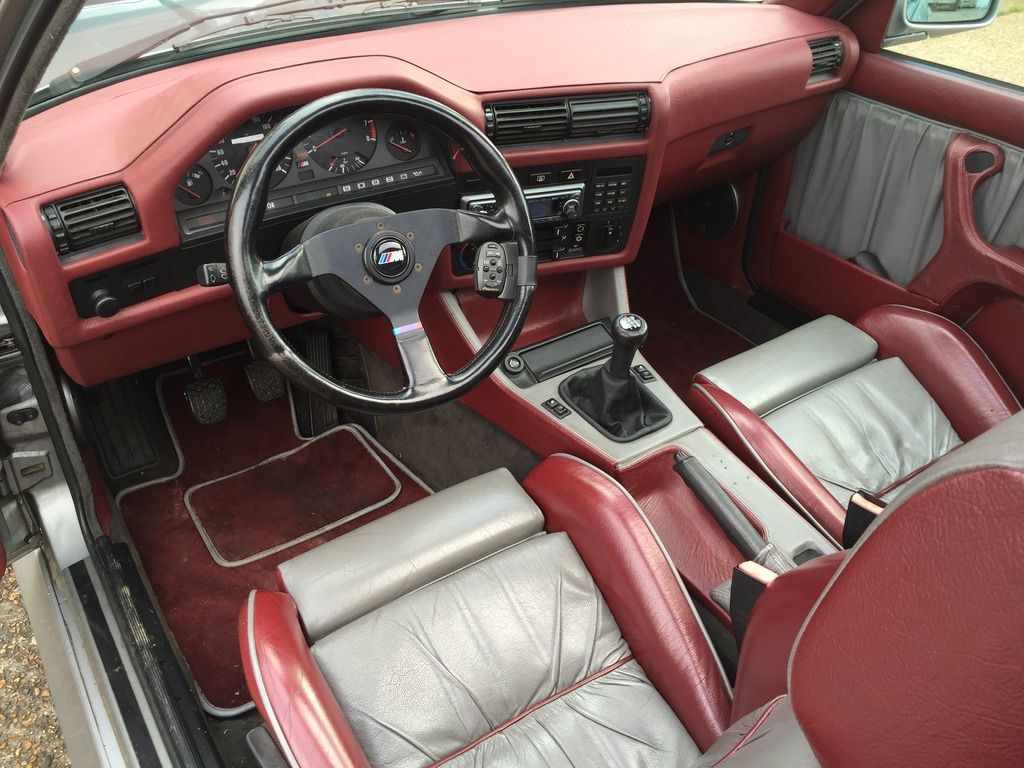 WOW! I'm sure some of you thought that after looking at the last couple of pics and this was one of the more expensive things that would have had to have been sorted before the car was even advertised.
Someone (more on that later!) went to a lot of time money and effort to create this two tone effort and that had to go!
As you can see from the first pic, the car was rolling on a set of racing dynamics - in 15" - which seriously dated the car but in a bad way, another thing which would have needed to have been changed prior to advertising and also not cheap to sort out.
These two things combined with the window tints made up to create a very late 80's/early 90's look now considered distasteful so this had to be sorted ASAP!
Other than the style efforts, the car was very low and stiff which turned out to have BMW motorsport group N bilsteins and unknown progressive rate springs which i estimated to be approx 50-60mm lowered.
Body condition is very good with virtually no rust, the only bits found are some very early stages of where the wheel arch meets the sill and the square factory lifting pads being a bit frilly.
The car has only covered 77k miles from new and a big part in why the mileage is pretty low is due to the fact that it has been dry stored and not been taxed since 1994!!! Unbelievable!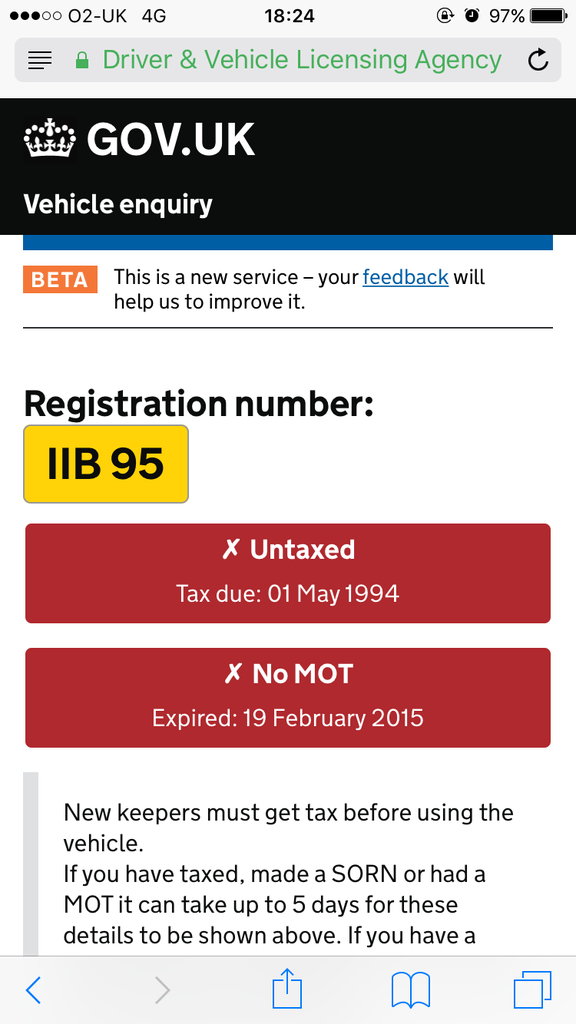 The story behind the car is that it was taken in payment for a building job and for some reason kept unsold, possibly because no one wanted to buy it looking the way it did?!
So work commenced pretty much straight away and first thing to be tackled was the suspension because it was so stiff and uncomfortable to drive on the road.
New front brake back plates were bought and those along with the front struts were blasted and power coated satin black.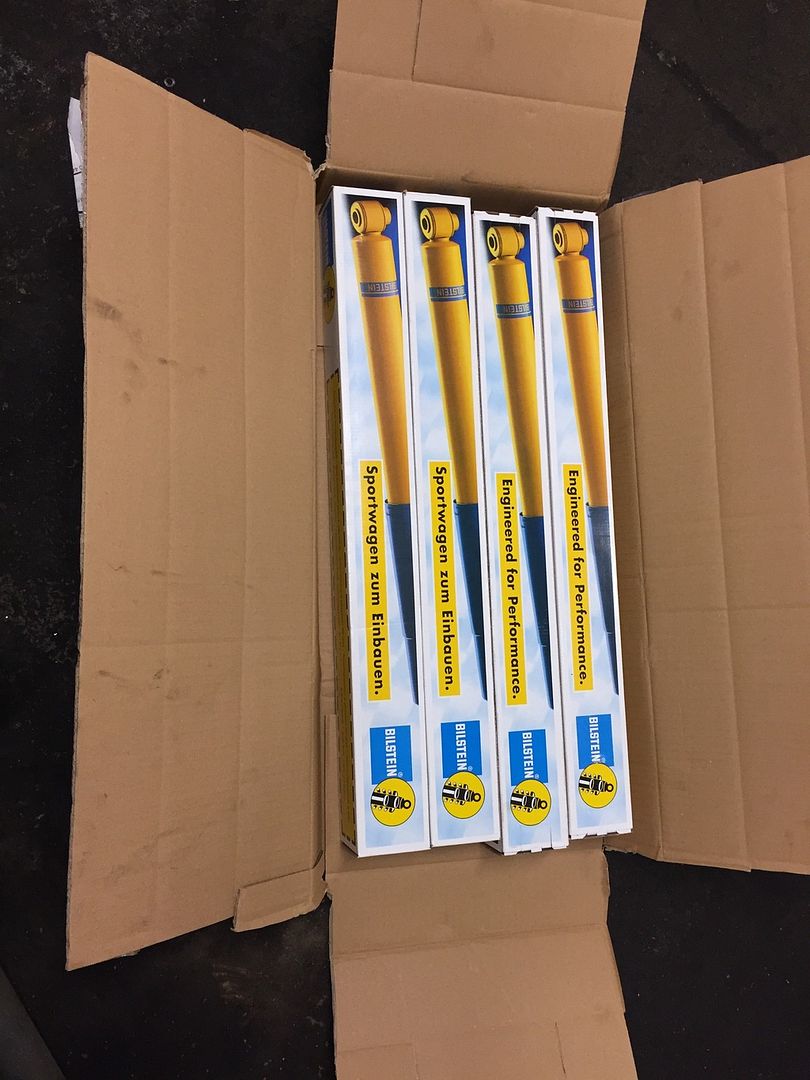 Four new Bilstein B8 shocks and eibach pro kit springs (same as what was on the white M3 and my 325i Sport) were ordered up as well as a pair of new wishbones, eccentric wishbone bushes, camber correction top mounts, E46 convertible rear top mounts, Z3 reinforcement plates, front drop links, and a set of new unused eibach adjustable roll bars sourced from Kos were fitted which has transformed the way the car rides and handles compared to what was on before.
The red dashboard removed and the bulkhead inspected as much as could be with with no signs of rot or dampness. Some rectification work was required to the alarm wiring and a minty mint black dash from Paul Z3I was fitted.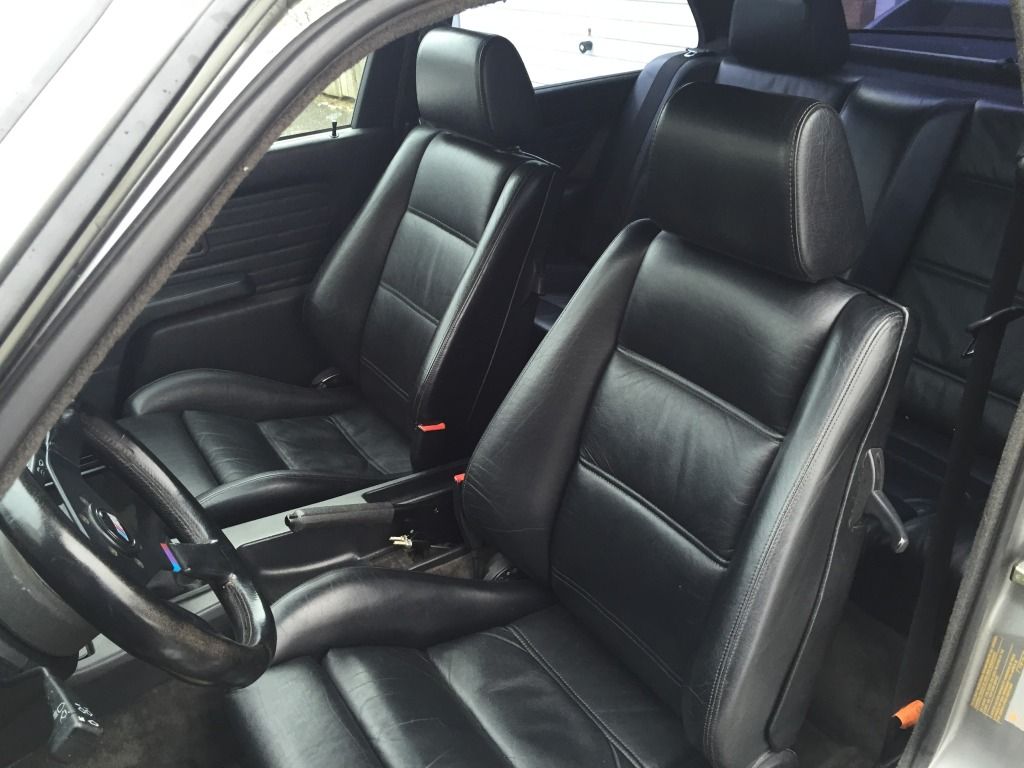 A set of very nice original heated black leather seats were bought from Paul bmwe30metch and various other interior parts such as door cards, Hifi pack rear blind shelf and consoles from pacerpete all made up to create a nice place to be.
Last of all, the 15" racing dynamics needed to go and a few sets of wheels were considered but one set i did want were a set of M3 16" BBS and as luck would have it a fairly tidy set with tyres popped up on the E30zone FB page being sold by Joel so these were snapped up a completed to "back to OEM" look.
As you can see, it has an Evo 2 front spoiler which it came with and the window tints have since been removed.
So thats where we are at but some digging of the cars history has revealed an interesting past.......