Guys, forgive the rather familiar tone of some of the details in these posts, essentially it's copied & pasted from another UK forum I have been on for years.
Essentially this is my second E30 M3. I sold the old (also Lachs) car years back having hit engine & bodywork problems all at once, and have been itching to get back on the horse since. I've had a string of E36, E46 & E92 track & road cars since, but have been waiting for the chance to get back in a proper one.
I thought some of our international E30 M3 community might enjoy my story with this one, and it's journey might raise a smile or two.
So, here we go again.
Essentially I sold the E46 M3 track car for a good price and got a well campaigned E30 M3 track car in return. I don't
really
know why I sold the E46, other than I could see it being fairly sought after given the specification and the build quality etc, coupled with an unshakable urge to get back into an E30 M3 before the values go any further into the stratosphere (I paid £8K for mine 6 years ago, now that car in that condition would be £25K). So very much a kind of a "now or never" type scenario. The E46 was and is the most badass car I've ever been fortunate enough to drive, fiercely fast, wonderfully screwed together, but ultimately something I could really, really hurt myself in. That was not the reason for sale though, but the fact that whilst I do okay, I simply don't have the budget nor the talent to go racing.
After that realization, continually doing track day after track day just seems a bit silly. Having been previously required due to circumstance & lack of budget to sell my old E30 M3 years ago, also really, really upset as those who know me well will testify, so given the chance to get in one again at a better time in life was a no brainer. I am
really, really
into E30 M3's in a really odd visceral/obsessive/almost romantic kind of way also, so knowing I have one right now even though in a million bits just makes me a better person to be around
How I came to own this M3 is a bit of a story (naturally!), so apologies in advance to anyone who nods off. I'm lucky enough to live close to Nigel Moseley (of E30 M3 fame) so from time to time will drop by to drink tea, talk rubbish and generally mooch about the workshop and oggle over the odd interesting motor knocking about. A couple of months back over a cup of garage tea, I happened to mention that I was in the market for a car again. Nigel told me that a guy had rang recently with a brief spec to have his valued, as he hadn't use it for years ad probably ought to get rid. It was not strictly for sale however, as he had owned it since 2001 and had bonded with it like superglue and a pair of dry index fingers. Anyway I got the guys number, and gave him a call with a figure in mind.
Headline spec was;
1988
E30 M3 2.3
Lachs Silver
TD Pro Race 1.2's on Dunlop Slicks
KW Coilovers with GrpA top mounts
Full weld in roll cage
Lexan all round
265bhp rebuilt S14 with Schricks, carbon box/alpha N etc
3.91 LSD
1988 Grp A Gearbox with super long 1st gear (60mph) - more valuable than a Spanish bank, but more on this later
AP Brakes
ATL fuel cell
Fully polybushed
Evo 3 rear wing, Evo 2 front chin spoiler
Fully stripped
Bit cosmetically tired, but not completely rotten
Pair of Sparco buckets with Schroth harnesses
I get up to view the car, and the guy isn't sure he wants to sell even, but is nonetheless happy to see me. I'm very careful around him, as he's clearly every bit as attached to the car as I'm likely to be as soon as I see it, and he doesn't need the cash necessarily. He just thinks it could (maybe) do with a new home given that it's not moved for years. I'm asking lots of questions about the history, his ownership, where has it been and what has it done. Everything and everywhere, it transpires. Most UK circuits for years, Nurburgring, Spa, you name it, it's been there making noise and polluting the o-zone. I'm getting sweaty and I haven't even seen it yet.
He opens the doors to the unit, and there it is. Covered in an good centimetre of dust, looking a bit neglected but still mean as hell. I decide right there and then (as all obsessive ///M car chaps should!) I'm having it. End of, it's coming home with me.
The doors open with the sound of a car that hasn't been touched in years, and inside the drivers door is a 'Ring lap card (dated 2011 I think) and a stopwatch. The windscreen is covered in track event stickers and noise test certificates. Yep, this car has seen some action. It looks like it quite literally got home from the 'Ring, was parked up, fast forward 5 years and I'm there trying to pry it from the current owners hands.
I'm pouring over, under and around the car looking for any horror stories, and there's nothing major other than a bit of standard E30 grot in the usual places, and a few very trick parts that are making me increasingly moist. Fuel pump fuse was pulled, some fresh fuel dumped in the cell and turned over a few times to get some oil circulating before it's first start in years. Fuse back in, fingers crossed as right now I'm in dangerous position, it could sound like total dogsh1t, but because I'm a mongoloid about stuff like this (remember the GT?) I'd probably still have bought it.
Happily it fires right up, and settles down nicely to a remarkably quiet idle for an S14. Left ticking over for a while, I'm fighting the urge to jump from foot to foot and make monkey noises. I have money burning a hole in my pocket, and there's a stripped out E30 M3 in front of me with a carbon box ready to make lots of noise. I practically had a religious & sexual experience right there and then.
Oil temp is now up a bit, and the engine can be given a few blips in an otherwise deserted industrial unit - the air is filled with memories of watching "DTM - The Golden Years" on repeat on Youtube. This thing sounds mean as hell. I want it badly, and must have it.
We start talking numbers and the owner looks like he might have a meltdown and pull out on the deal on the spot. I re-emphasize that it's going to a very worthy home, and that I will cherish it until death do us part etc etc (stop giggling at the back, I might even keep it for 18 months!).
A deal is agreed, and we shake hands. I'm happy with the numbers (it'd break for more than I paid, at least that's what is keeping me sane), and he's content (ish).
I drive away, check my phone and have lots of missed calls from close friends who knew about the possible deal and want to know whether I've got it. I arrive home stammering on the phone like a fool, massively excited and get drunk whilst watching "DTM - The Golden Years" on Youtube. I now have a 10 day wait to sort my logistics out, hook up the trailer and get my ass up there and drag it home.
It's a long 10 days.
Saturday arrives and I bring it home. The plan is to get it home, spanner check it, chuck an MOT on it and tool about in it for a few weeks/months whilst I formulate a plan for it. It didn't quite work out that way :lol:
First picture of what is probably already far too "wordy" a journal.Back home and on the trailer, see the dust?!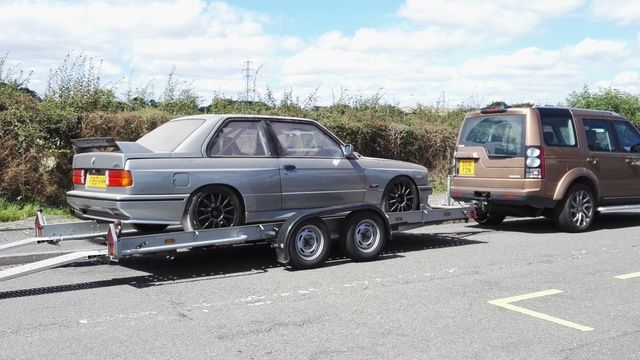 First order of the day is a quick wash, so we can see what we're working with.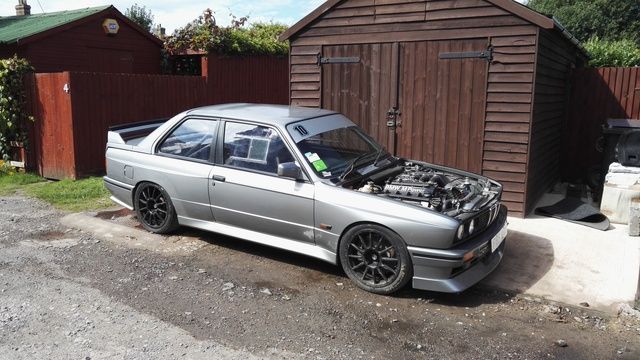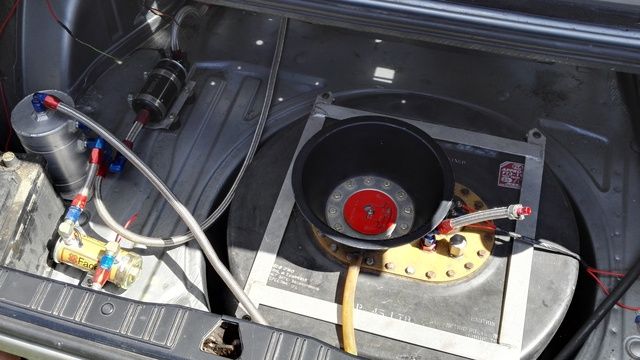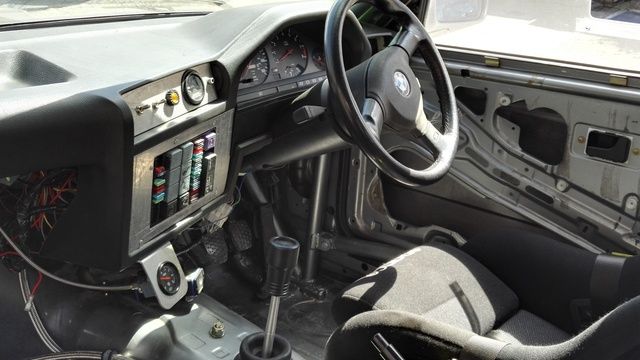 Oh.
This car leaks, I mean really leaks, all the various "modifications" are letting water in like you would not believe, I'm talking wet vac on the floor pan and wheels wells kind of affair. That might be a bit of a challenge in the rain then. Also, the fuel system is downright shonky & dangerous. All the connections sweat fuel vapour at best, and leak fuel out at worst. Hmmm, this might not pass an MOT after all. My ambitions of tooling about in this quickly are shrinking, rapidly. The seat mounts are made of tin foil, and with one swift kick to the side of a seat it would surely fall off and roll around the cabin. The roll cage, is questionable at best, (I knew this bit well to be fair) and looks like in an accident it would cause more harm than good! Bugger. This may get serious quite quickly then.
Kul & Bal pop over to mine, we throw some fresh oil in and new set of plugs, and just generally stand around it in the garage and smile. Grunting noises are made, lots of them, and a good time had by all. It feels really fcuking good to have the first (in my mind) iconic ///M car again, and my name on the V5.
I start fretting though like I usually do, and decide fcuk it, I'm going to rip into this thing right now and get on it. I won't be happy with it pissing in water, seats being unsafe, and the fuel system being dangerous. I'm not hugely risk averse, but the thought of piloting this thing down a back road on full chat with a leaking fuel cell, and a live battery right next to it doesn't fill me with optimism regarding the next few years of my life. I'm going to bite the bullet now, with a view to the sooner it starts, the sooner it can be finished.
The car is taken down to Moseley Motorsport, and orders issued. Start stripping it on Monday, and don't stop until it's a bare roller.
Down at Moseley's running and driving for the last time in it's current incarnation.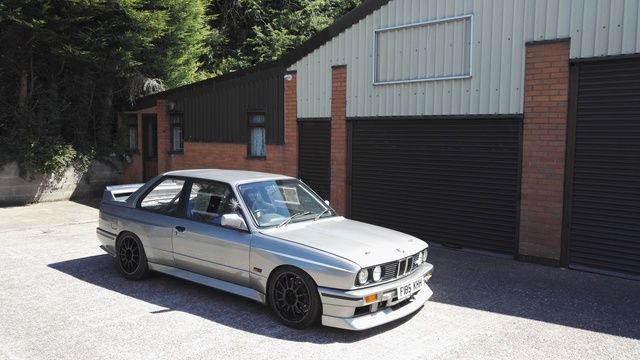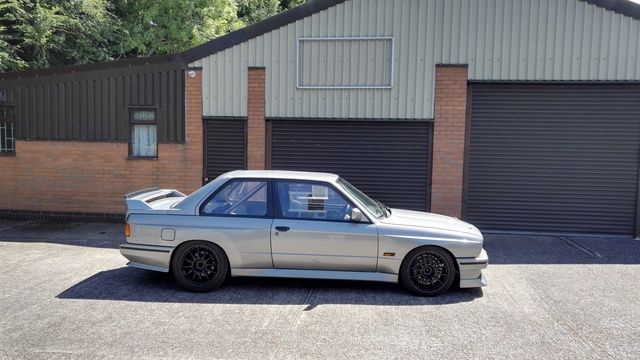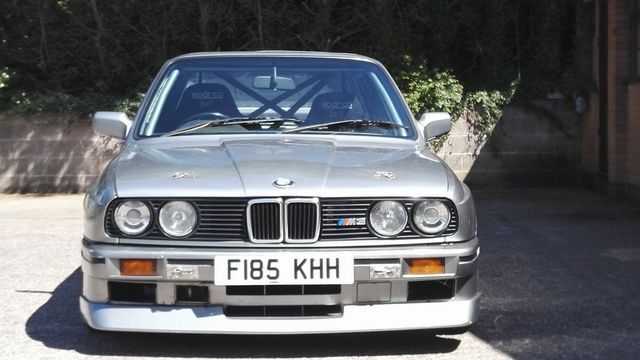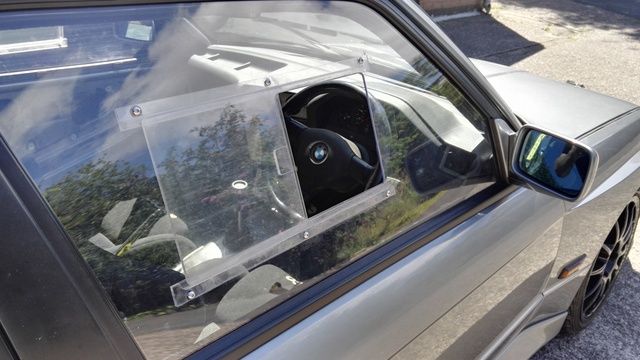 Two or three days later, I get the call. "It's stripped, parts are boxed and it's down to a rolling shell. What do we do next? Bring some money."