High Point State Park Drive II April 12th
It's gettin' warm and the Sunrise Mountain is open again. So it's time for the bianual "High Point State Park Drive "!!!
There will be 2 meeting points, one in NJ right over the GWB, and one at a resteraunt off exit 15 in Nothern NJ.
First meeting point. 10am , leaving at 10:30am.
We will meet off exit 70 from route 80 in NJ. Be sure to be in the local lanes or you will miss th exit (I do not know how easy it will be to do if you are coming from the lower level of the GWB from the cross Bronx expressway) However it is possible.
First meeting point for lunch. 12pm , leaving at 1:30pm.
Sonny's Drive in! The food is getting better and t it is a great location to join-up.
EDIT: Looks Like Sonny lost his webdress (web-address).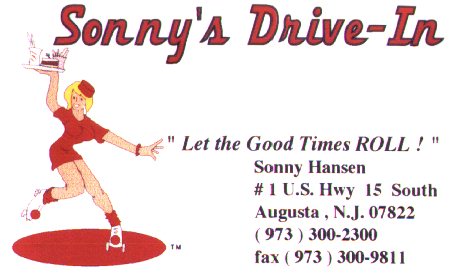 So let's start planning.
Please bring your motorola talkabouts and radar detectors if you have them.
If anyone needs directions to The Marriot Hotel click on this link below. Just type-in your info and it will lead you to the First NJ meeting spot, which is only 3 miles from the GWB.
Teaneck Marriott at Glenpointe
100 Frank W Burr Boulevard
Teaneck, NJ 07666
US
1-201-836-0600
http://www.marriott.com/dpp/Property...rshaCode=EWRGP
:evil: :evil: :evil: :evil: