Having just installed a set of nice Startec tailight lenses, I couldn't help but notice a missing bulb/socket in the factory tailight assembly. With a perfectly good lense available for such a bulb, I thought it would be nice to have dual brake lights instead of the lone light on each side. Knowing that many might want to follow suit, I decided to take photos and make a proper 'how-to' for those who might be interested.
Time: <1 hr
Tools:
Spare E30 tail light bar
Flat Screwdriver
Soldering Iron
Solder
Wire Cutter/Stripper
(2) 1156 Clear Bulbs
When I first installed the Startec lights, this is what I saw:
When I hit the brake lights, I saw this:
When the M3 tail light bar is removed from the lense via the two plastic retainers, we see an empty plastic socket and no provision for wiring: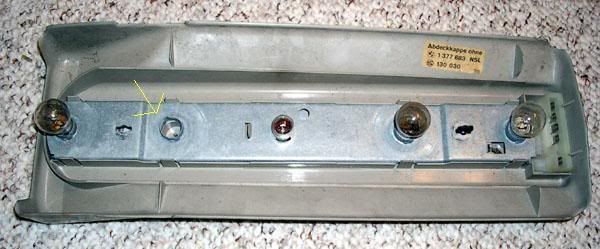 What we need to fix this is a sacrificial light bar from another E30 BMW. This one came from a car that apparently had a rear fog light:
The first thing we do is remove the metal strip from our sacrificial light panel. The proper way to do this is to gently lift one end while applying mild pressure to the plastic retaining tabs closest to that end, and work your way to the other end. If you are gentle, it will pop right up without breaking the plastic tabs. There is one plastic retaning tab that comes through the center of the metal strip, so don't forget about that one! When you lift the strip, you will find how simple each socket actually is: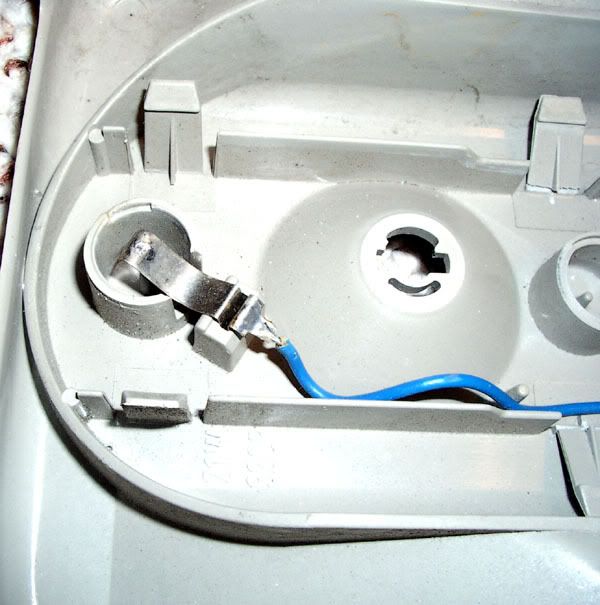 The metal strip serves as the ground, and contacts each bulb sleeve. There is one wire to each socket, and a metal tang that serves as the contact at the base of the bulb. The tang is held in place by being partially wedged into a slot in the plastic backing.
When we lift the strip from one of our M3 tailights, we see the empty socket and provision to anchor the tang is there. We just need to supply the wiring:
So what we do is remove two socket tangs/wires from our sacrificial light bar. We take the two that are furthest from the main connector, which gives us enough wire to work with for each.
In this photo, I am pointing the first of the two assemblies that I will remove:
Clip the wire very close to the main connector. Then turn the plastic cover over. Using the screwdriver, insert it into the small hole directly behind the tang, turn the screwdriver slightly sideways, and press directly onto the bottom of the tang. It will pop out: