A local EVO owner recently asked me to assist him in conducting a leakdown test. When he arrived, his leakdown tester was a Chinese/Ebay/Harbor Freight unit that proved to be completely worthless. Not having replaced my leakdown tester since it was destroyed by Hurricane Katrina, I checked around and found units ranging from $25-$100+, with none of them mentioning any standard or specification in their product descriptions. When one measures leakage, it must be measured with respect to a standard that is engineered into the tester itself. Unless the tester is constructed to a specific standard, there is no way of knowing what it's telling us. This is like a chassis dyno generating a chart, but with numbers that don't reflect hp or any other known standard of measurement. Being dissatisfied with this, I decided I could do better by making my own, while saving a few bucks at the same time.
Anyone who knows anything about the FAA (Federal Aviation Administration) knows the FAA doesn't screw around when it comes to engine maintenance standards. The FAA established
the
standard for leakdown testing, and that requires a 1mm (.040") orifice be placed between the two gauges. In other words, when pressure is applied (e.g. 100psi), what we are looking for is leakage in the cylinder as compared to the airflow through a 1mm orifice at that pressure.
Parts:
(2) 100psi 2.0"- 2.25"1/8 NPT gauges (Ebay) - don't get larger than 2.25" or there may not be enough space to fit them!
(1) 1/4" NPT air pressure regulator (100psi capable) - Ebay
(1) 1/4" NPT male Quick Connect fitting
(1) 1/4" NPT female Quick Connect fitting
(1) 1/8" NPT plug (for regulator gauge port)
(2) 1/8" NPT male to 1/4" NPT female adapters
(2) 1/8" NPT male/male unions
(2) 1/8" NPT 'T' fittings (all female)
(1) 1/8" NPT union (1-3/4" long)
(1) 1mm (.040") precision drill bit. This can be found on Ebay, and possibly through Dremel tool parts listings.
(1) 14mm spark plug hose with male Quick Connect fitting - if you have a compression tester, you may be able to use that one. Otherwise, check Ebay and auto parts outlets.
The fittings and such are available from better hardware stores, Home Depot, Ebay, etc.
Assemble everything as shown in the photo, with the exception of the long 1/8" NPT union. Carefully apply one wrap of Teflon tape to all threads.
Now, to make the critical feature, the 1mm (.040") orifice ...
This is easy to do with a bit of JB Weld "JB-KWIK" epoxy.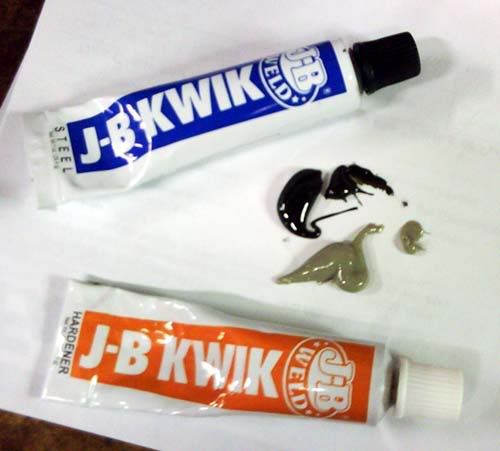 Mix a small amount of the epoxy. Take the 1/8" union and insert one end into the mixed epoxy, getting enough inside to create a plug and seal the tube.
Be sure to carefully wipe any excess from the threads. Let the epoxy set for ~30 min, or until it becomes fairly hard.
Using the 1mm (.040") drill bit, carefully drill a hole through the epoxy plug. If you don't have a Dremel tool handy, you can even do this with your fingers if you're careful. Be sure to check that the hole remains intact after the epoxy is completely dry.
Again, if you have a compression tester with a removable spark plug hose, you're already set.
All things considered, this cost me ~$30 in parts, and I can be assured that I have a tester that gives me readings that make sense, and are relative to leakdown readings as described and discussed in professional terms.