Well, after four years, over 50 CAD files, eight welding-bottles of Argon and many hours of fabrication, my turbo conversion is finally done! I've only been mapping for about 3 days, and air-fuel ratios and timing are far from fine-tuned. Even so, it's totally blowing me away how well the system runs and the shear amount of torque and power. For example, on my first day of tuning, I timed two runs 50-80 mph, running on 10 psi boost.
My 2.5L S14 turbo: 3.0 seconds
Porsche 911 GT3 RS 3.2 seconds
BMW E46 M3 4.2 seconds
It is an absolute blast to drive, this great chassis and gobs of tire wrenching torque!
If you have seen some of my previous posts, the conversion started with me installing a Wolf (Australia) EMS and converting my 2.5L to run coil-on-plug direct-fire ignition and sequential injection. A J&S knock sensor was installed at the same time, and it is set up to be controlled by the Wolf, effectively telling it when and when not to search for knock. I hear that the J&S is now available for single-distributor engines and includes a vacuum circuit that controls when the unit "listens" for detonation.
Wolf and J&S
COP conversion
Since my 2.5 did not have very high mileage, I couldn't bear to just rebuild it for stronger internals. I figured that this project would need some serious "shaking down", and I might as well do that on the "stocker". The 2.5, by the way, is originally built by Dinan, which is the expensive way to get a BMW Evo crank, pistons, and the 272 intake cam. The headwork is stock, but I have added TMS camgear to enable changes in cam timing. About half a year ago, my friend Ron helped me pull the head to install a .140" MLS (multi-layer steel) gasket, which reduced the CR to 8.5:1. My strategy was additionally to use conservative timing and rich fueling to keep the stock pistons alive at 10 maximum PSI on 92 octane gas.
Several components were added to the car in preparation for the turbo:
Custom Expansion tank and assorted new coolant components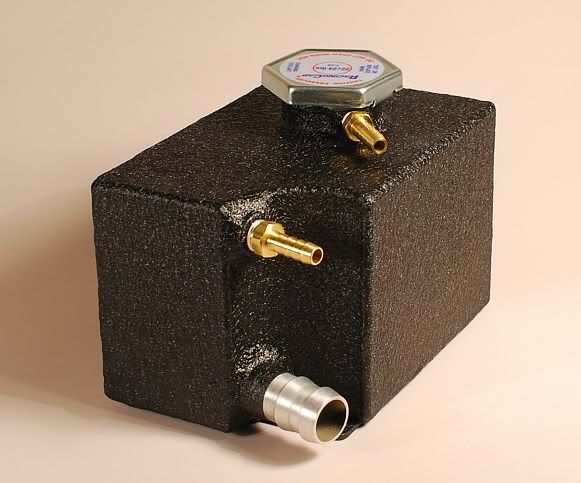 Reworked water rail, with set-back flanges and relocated sensors. Ceramic-coated and includes water feed for the turbo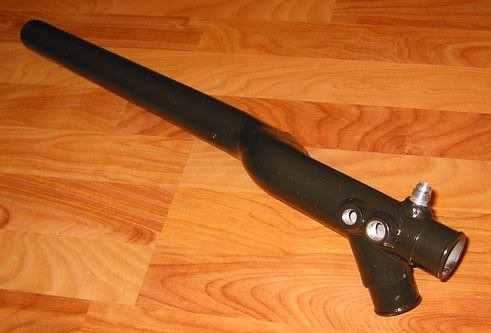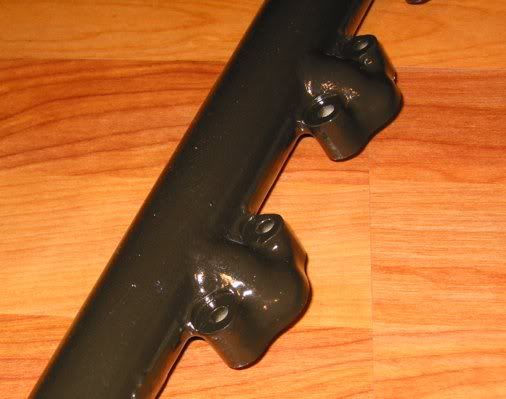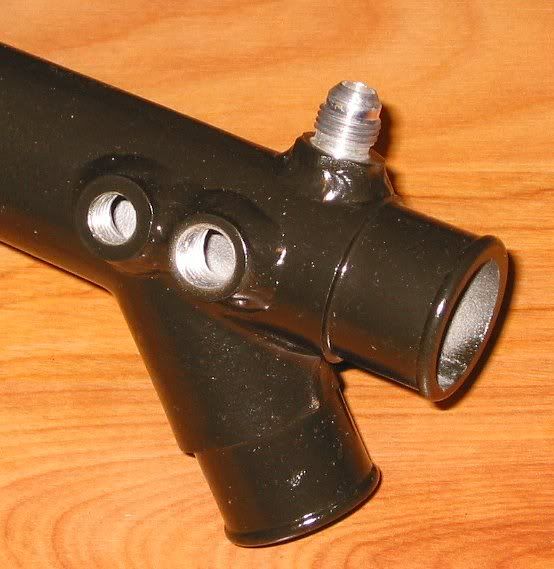 Ron Davis aluminum Grp. A replica radiator (no pics yet)
16" SPAL fan (mounted on custom carbon brackets, 15 grams each) (no pics yet)
Kulpe Motorsports "hammer-head" racing pan, with custom turbo oil return
3" stainless exhaust (now 3" all the way)
Innovate and STRI electronic gauges: O2, boost, fuel and oil pressure, and 2 EGTs (no pics yet)
*The stock fuel pump and regulator were NOT swapped. The pump will support over 400 hp and the regulator is boost referenced 1:1 (used by some 944 Turbo guys)
After 30+ 3D CAD versions of headers, and being adviced to steer clear of 321 stainless unless going long-tube, I decided on a short-tube header made from Schedule 10 304L stainless. This design will get the hot gasses to the turbo as quick as possible, and make packaging much easier. 304L SS is often used aftermarket for Mitsu Evos and many others. It should last years versus months. l vee-ed out all joints for max penetration, and all are TIG welded with back-purging. All joints that could be reached were ground flush with long carbide bits and porting tools.
3D CAD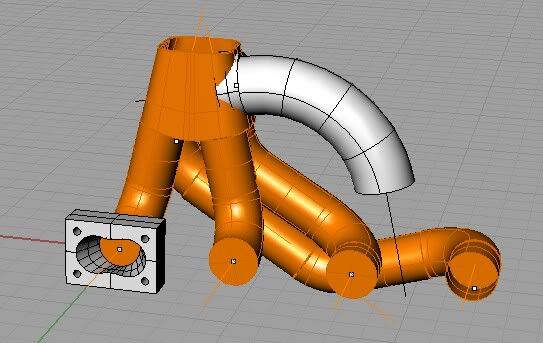 EDM-cut collector by my friend Richard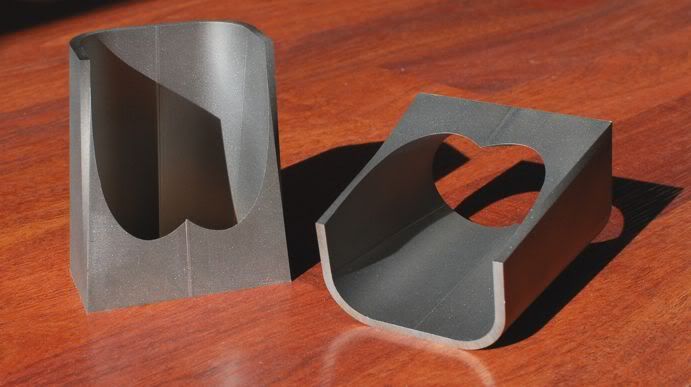 Real-life
EDM-cut thick flanges with integral transitions and EGT ports
Wastegate port with machined to 2" to avoid boost-creep. Note merge collector...
The turbo is a Turbonetics ceramic ball-bearing unit, T3/TO4E hybrid. It was recently upgraded by the factory to the much more efficient F1 turbine wheel and I had the .63 A/R housing ceramic coated. The compressor wheel is 50-trim, which is a very well-respected for 4 cylinder engines of our size.
Ceramic-coated turbine housing
.82 vs. .63 housing after 2-3 hours of tedious porting and sanding
Brand new F1 wheel, which produces less backpressure
Here are the headers, wrapped in thermal wrap. Speeds up gasses and keep bay cool.
The engine bay was lines with adhesive-backed, reflective fiberglass. Note how compact the headers are. There is .75" clearance to the frame rail.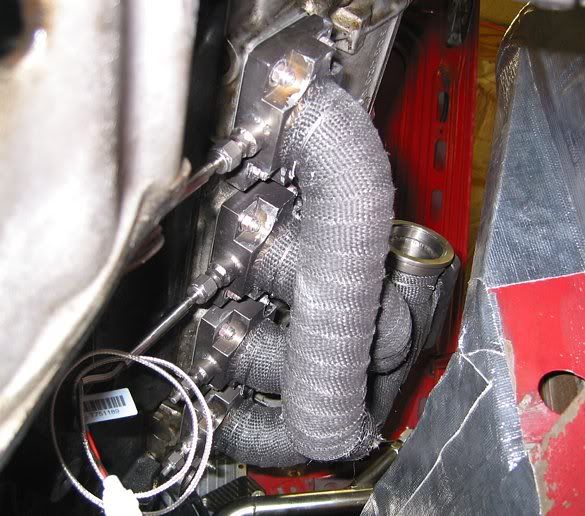 New Earl's hose returns water to the pump through fabricated stainless crosstube.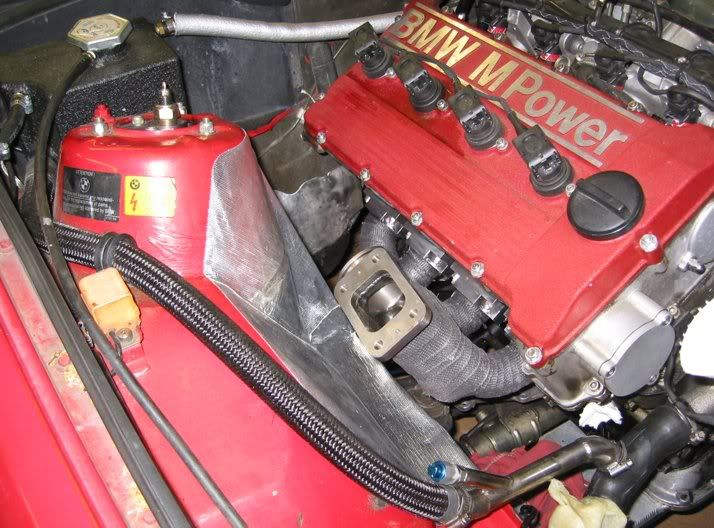 Finally, here's the turbo in place! The water lines are Earl's 500 degree Ultraflex at $100+ each!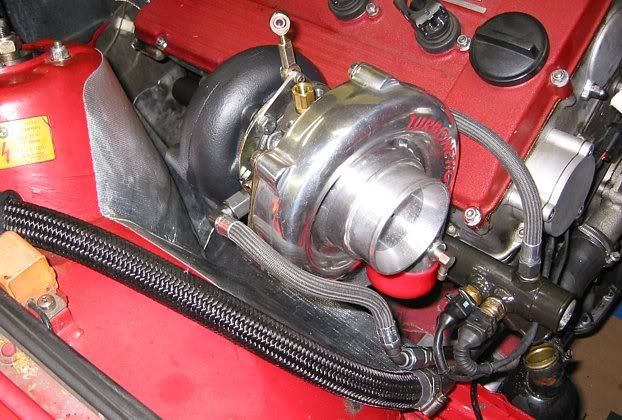 Turbo, with dump tube being fabricated. The fitting is for measuring turbo backpressure, which can aid in cam timing.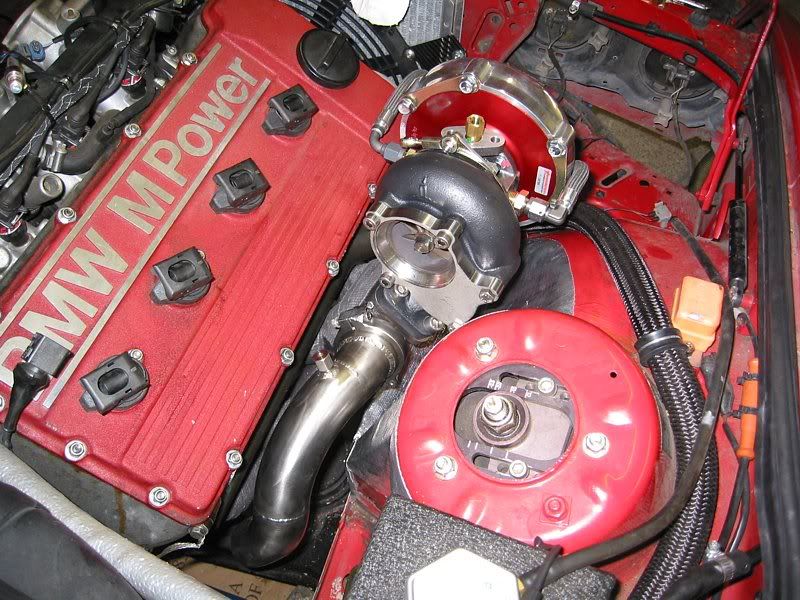 Downpipe being tacked and welded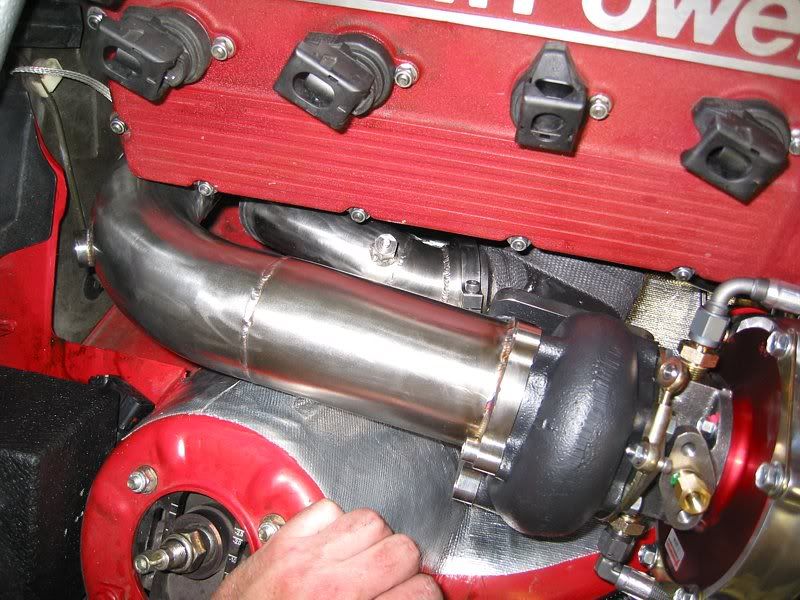 Flex section on the end of dump tube
Downpipe and dump tube all done. The downpipe is two-piece for easy servicing
Downpipe into exhaust, using trimmed factory hanger
Clearance of the downpipe is not too bad, once the chassis is trimmed away
The down and dump tubes get wrapped too
Regulating boost pressure is very important when running a decent-sized turbo on low boost. Special care was taken to ensure the dump tube and wastegate were large enough. The Wolf EMS precisely controls the ramp up of boost and maximum boost by using dual electric solenoids (PWM). This way the wastegate spring doesn't crack open early, reducing torque, and boost spikes are eliminated.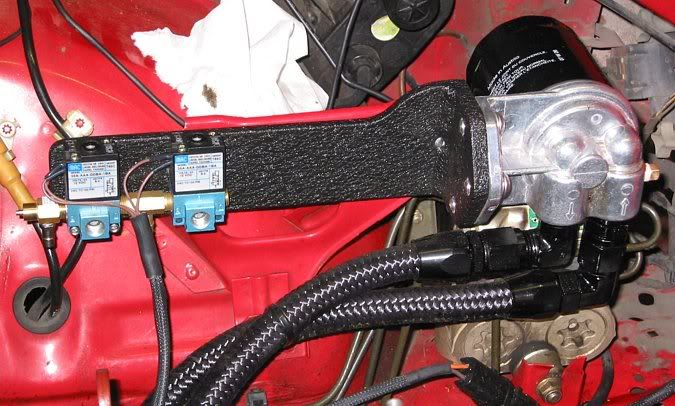 BTW, here is the bracket for the remote oil filter, design by UofOM3 and I. Lines are Earl's Pro Lite 350 with Ano-Tuff fittings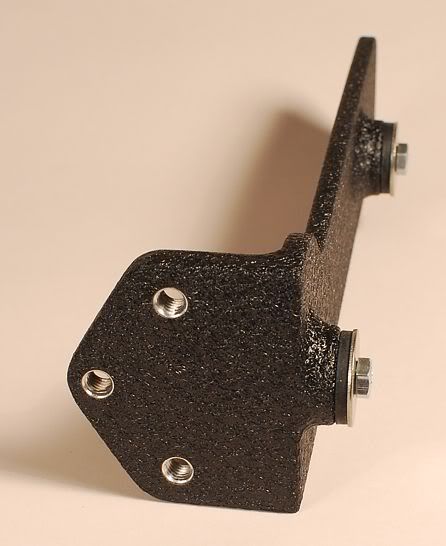 Here is the intercooler being mounted. It is spec'ed for 450 hp, and I kept it on the small side for improved response. The pipes are routed to retain the use of brake ducts. Piping is 2" -> 2.5" hot side / 2.5" cold side.
All ends have machined grooves instead of beads. The silicone hoses fit vastly more cleanly.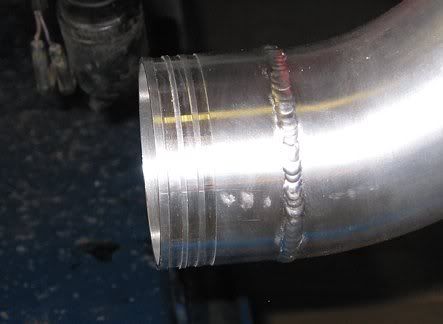 Here is the hot side pressure pipe
And here is the aluminum/stainless oil return pipe (terminated with a short section of Earl's hose)
Cold-side pressure pipe is painted stealth black, but the Tial 44mm gives it away!
Final (busy) setup
The next few weeks will be spent tuning the maps, setting cam timing and finally ripping off some dyno runs. Of course I will add data as I get it for anyone interested